Usha Rao-Monari (keynote)
Senior Advisor
Blackstone Infrastructure Group

Usha Rao-Monari is a seasoned investment professional with almost 30 years of experience. She is currently a Senior Advisor to Blackstone's Infrastructure Group and previously served as CEO of Global Water Development Partners, a Blackstone portfolio company. During her career, Usha held several senior positions at the International Finance Corporation, which is part of the World Bank. Her roles included Director – Sustainable Business Advisory Group, Global Head – Water and Environmental Group and Head – Utilities and Public Partnerships. Usha was instrumental in founding and establishing the 2030 Water Resources Group, a public-private partnership platform which is now part of the World Bank group.
Susan Ancel
Director, One Water Planning
EPCOR Water Services Inc.

Susan Ancel is the Director of One Water Planning for EPCOR Water Services Inc., a new role that focuses on the development of strategic plans for the entire water cycle. Previously, she was Director of Stormwater Strategies and was responsible for the development of an Integrated Resource Plan for Stormwater Management that considered capital and operational risk mitigation planning, and built awareness of the interrelationships between utilities, insurance, disaster response agencies and the public in preparing and responding to changing stormwater risks in the community. Prior to taking on this role, Susan was the Director of Water Distribution and Transmission and was responsible for the planning, engineering, construction, operation and maintenance of the water distribution and water metering systems for EPCOR in Edmonton. She's also served on numerous industry committees, including the Board of Directors for the Geospatial Information Technology Association from 2001 to 2007. She is currently a member of the Board of Directors for Canadian Water Network.
Cathy Bernardino Bailey
Director
Greater Cincinnati Water Works

Cathy Bernardino Bailey is Director of Greater Cincinnati Water Works, a utility that serves drinking water to over 1.1 million residents in the Greater Cincinnati region and employs 600 professionals. The utility has an annual operating budget of $80 million and has invested $487 million in capital improvements in the last 10 years, with a key focus each year on replacing 1% of water mains in the system. The utility is known for innovation and creativity in the water utility industry, and received a platinum award for utility excellence in 2011 from the Association of Metropolitan Water Agencies.
Bernadette Conant
Chief Executive Officer
Canadian Water Network
Bernadette Conant is the Chief Executive Officer of Canadian Water Network and is a trusted broker of water knowledge. Together with her team, she works to improve the application of water research to decisions for water management. In 2009, she founded the Canadian Municipal Water Consortium, whose members collaborate on critical drinking water, wastewater and stormwater challenges. The Consortium includes leaders from progressive municipalities, as well as industry and academic partners. Bernadette is Vice-Chair of the board of directors for the Global Water Research Coalition. She was appointed to a national expert panel on climate change adaptation by the Canadian Institute for Climate Choices. Bernadette also serves on the boards of Hydrogeologists without Borders and the Water Economics, Policy and Governance Network. Bernadette holds a Master of Science in hydrogeology from the University of Waterloo.
Michael Fenn
Senior Advisor
Strategy Corp

Michael Fenn has built an extensive career in public service. He was Deputy Minister under three Ontario premiers, Municipal Chief Administrator for the cities of Hamilton and Burlington, founding CEO of the Greater Toronto transportation authority Metrolinx, and CEO of the Mississauga Halton Local Health Integration Network. He's published reports and journal articles for think tanks, trade journals and industry organizations on the future of rural infrastructure in Ontario, water, wastewater and stormwater policy in Ontario, megatrends and the future of Canada's infrastructure.
Kelly Gillis
Deputy Minister
Infrastructure and Communities (Canada)

Kelly Gillis was appointed Deputy Minister of Infrastructure and Communities in September 2017. Prior to this appointment, Kelly served as Associate Deputy Minister of Innovation, Science and Economic Development Canada. In this role, Kelly worked with the Deputy Minister in supporting three Ministers for a large department with 5,000 staff. The department played a key role in developing Canada's Inclusive Innovation Agenda, which helped develop an economy that promotes clean growth, high-quality jobs and increased prosperity.
Andrew Grice
Director, Hamilton Water
Public Works Department, City of Hamilton
Andrew Grice is the Director of Hamilton Water and oversees the planning, capital and operational programs for the City's water, wastewater and stormwater assets. Hamilton Water is responsible for an operating budget of $90 million, and has a team of 300 employees who support large capital programs with $10 billion worth of infrastructure providing essential services to the 535,000 residents in the City of Hamilton.
Sashen Guneratna
Managing Director of Investments
Canadian Infrastructure Bank

Sashen Guneratna is a Managing Director within the investments group at the Canadian Infrastructure Bank, where he assists the executive team with the organization's investment strategy. Sashen has more than 20 years of banking and advisory experience encompassing several sectors and jurisdictions. Previously, he was a Partner in the Capital Projects and Infrastructure group at PricewaterhouseCoopers LLP, with a focus on water and wastewater, First Nations led projects, power and utilities. In 2013, Sashen worked for National Bank Financial as a financial advisor and underwriter of project finance transactions. He holds an MBA and BBA from the Schulich School of Business.
Theresa McClenaghan
Executive Director and Counsel
Canadian Environmental Law Association

Theresa McClenaghan was appointed as the Executive Director of the Canadian Environmental Law Association (CELA) in 2007. She holds an LLB from Western University and an LLM in constitutional law from Osgoode Hall Law School, as well as a diploma in environmental health from McMaster University. She was called to the Bars of Manitoba and Ontario. Focusing on environmental health and environmental safety in the areas of energy and water, Theresa has practised public interest environmental law for over twenty-five years in private practice and at CELA since 1998. From 2006 – 2007, Theresa was a Senior Water Policy Advisor to the Ontario Minister of the Environment, where she was responsible for overseeing the passage of the Clean Water Act and implementation of the remaining Walkerton Inquiry recommendations.
Robert Newell
Professor, School of Environment & Sustainability
Royal Roads University

Robert Newell is an Adjunct Professor in the School of Environment & Sustainability at Royal Roads University in Victoria, British Columbia. He teaches courses on critical sustainability issues (particularly climate change and biodiversity loss) and approaches to sustainable community development. Robert's research focuses on integrated planning, and he explores the use of systems models and visualizations as tools for supporting local planning and decision-making. Much of his work has looked at community climate action in an integrated planning context, and he has explored a number of different analyses and techniques for supporting local climate action efforts, such as decomposition analysis and mapping climate action co-benefits. Robert aims to create tools for facilitating more inclusive, collaborative approaches to planning, and his previous research involved using video game development software to build a realistic visualization to be used as a tool for participatory coastal planning and management.
Cathie O'Toole
General Manager
Halifax Water

Cathie O'Toole is the General Manager of Halifax Water. Previously, she was the utility's Director of Corporate Services and Chief Financial Officer. Her career has spanned 20 years and included a number of senior leadership positions, including CFO and Director of Infrastructure and Asset Management for the City of Halifax. Cathie currently serves on the Nova Scotia Liquor Corporation Board, the AWWA Finance Committee and chairs an investigative panel for the Chartered Accountants Association of Nova Scotia. She holds an undergraduate degree from Dalhousie University, MBA from Laurentian University, FCPA and FCGA designations, and is a member of the Institute of Corporate Directors.
Michèle Prévost
Professor, Civil, Geological & Mining Engineering
Polytechnique Montréal

Michèle Prevost has more than 25 years of experience in research and technology in the areas of drinking water treatment and distribution. She is an NSERC Industrial Research Chair in Drinking Water at Polytechnique Montréal and founded the CREDEAU laboratory to advance water treatment technologies and processes. Recently, Michèle directed a major initiative to reduce lead in Canadians' drinking water through a suite of laboratory, field and epidemiological studies. She is also leading a Canadian-based collaborative research project with water utilities on cyanobacteria and toxin treatment. In 2016, Michèle received the American Water Works Association's A.P. Black Award for outstanding research contributions to water science and water supply over an appreciable period of time. She is the author of more than 300 publications and is widely recognized for her skill in producing high-quality research results and transferring them to research users.
Mark R. Servos
Canada Research Chair in Water Quality Protection
University of Waterloo

Mark Servos is the Canada Research Chair in Water Quality Protection at the University of Waterloo, where his research and teaching program is related to the science underlying risk assessment and the management of emerging threats to water quality in watersheds. Mark previously worked as a research scientist with the Department of Fisheries and Oceans (Great Lakes Laboratory for Fisheries and Aquatic Sciences, 1988-1996) and as a Project Chief with Environment Canada (National Water Research Institute, 1996-2003) before joining the University of Waterloo as a Professor of Biology in 2003. He also served as Scientific Director of Canadian Water Network until 2011. He plays an active role in international scientific societies, serving as President of the International Association of Great Lakes Research and the Society of Environmental Toxicology and Chemistry (SETAC). He is a SETAC Fellow and was recently recognized with the Stephen J. Klaine Environmental Education Award for his commitment to innovative interdisciplinary teaching.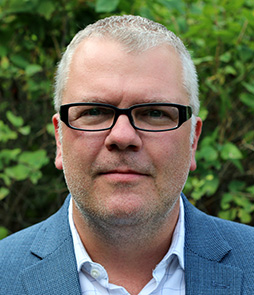 David Szeptycki
Director, Strategy and Innovation
Environmental Services Department, York Region

David Szeptycki is the Director of Strategy and Innovation, and provides strategic policy advice on a broad range of issues within York Region's environmental services department. He leads cross-functional teams that focus on regulatory compliance, continuous improvement, policy, energy conservation and leadership development. David oversees a number of innovation projects that include data analytics and water reuse. He regularly engages with the Ministry of the Environment Conservation and Parks, neighbouring regional governments and local municipalities to advance municipal government priorities.
Carl Yates
Chair
Canadian Water Network
Carl Yates recently retired following a long career with Halifax Water. He served as Project Engineer, Chief Engineer and General Manager of the Halifax Water Commission from 1988 to 1996. In 1996, he was appointed General Manager of the Halifax Regional Water Commission, which assumed a regional mandate after the municipal amalgamation of the greater Halifax area in 1996. In 2007, Carl oversaw the formation of the first regulated water, wastewater and stormwater utility in Canada with the transfer of wastewater and stormwater assets from the Halifax Regional Municipality. In 2019, he retired from Halifax Water, a body corporate municipal utility that generates approximately $140 million in annual revenue with assets of over $2 billion.
Bev Yee
Deputy Minister
Alberta Environment and Parks
Bev Yee was appointed Deputy Minister of Alberta Environment and Parks on September 18, 2018. She has spent more than 20 years with the Government of Alberta, most recently as Deputy Minister of Intergovernmental Relations. Prior to that, she served as Deputy Minister of Agriculture and Forestry. Much of Bev's time with government has been dedicated to the Environment portfolio, where she was previously Assistant Deputy Minister of Integrated Resource Management Planning, as well as Alberta's Stewardship Commissioner.
Jimmy Zammar
Director, Integrated Strategy and Utility Planning
City of Vancouver

Jimmy Zammar is the Director of Integrated Strategy and Utility Planning in the engineering department at the City of Vancouver. He leads the integrated water resource planning group, One Water, which aims to integrate the city's planning for water, sewer and drainage while incorporating climate adaptation, green infrastructure and data driven, multi-criteria decision-making to inform policy, programs, capital investments and land-use planning. Jimmy also leads the city's innovative, low-carbon district heating utility, Neighbourhood Energy Utility, as well as the Engineering Project Management Office.